The grill plays an ideal role in deciding the quality of your meals. Lots of people prefer to have charcoal grills for the taste, whereas some are supporting gas grills for easy and convenient features.
There is no doubt that charcoal grills are the far best choice when it comes to taste and flavour. But to keep the hassle away and to enjoy the experience, Gas grills are doing a fantastic job as well.
Gas grills are also easy to heat and take less time too. If you are cooking a huge batch, you must want to get them to finish at the same time. Well for this, gas grills are the ideal choice in grills for beginners or the experts.
If you just want to enjoy grilled food without owning the huge grill, they also have the best small gas grills in options too.
Are you confused? Well here we have shorted the best options you might get in the market along with the features, specification as well as pros and cons. Also to help better, you can get the ideas about how to choose a small gas grill without any hassle!
Best Small Gas Grills Reviewed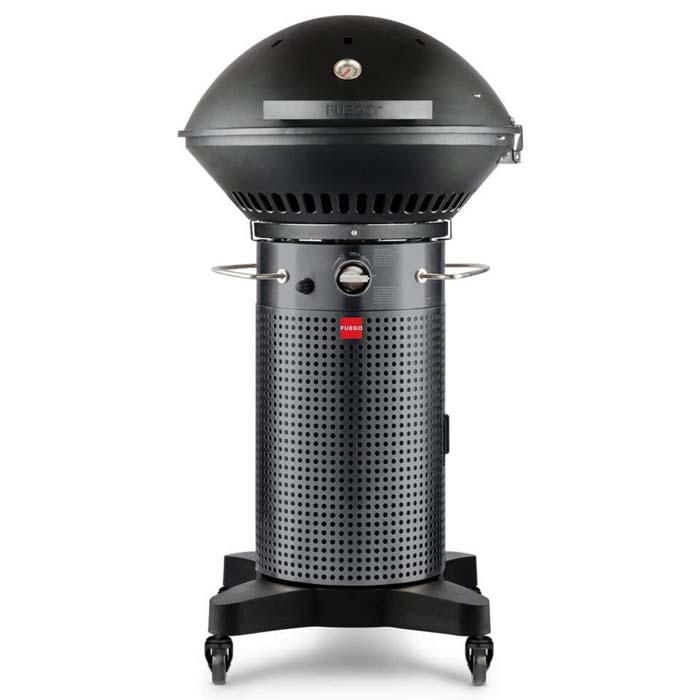 The Fuego F24C offers an exciting combination of unique appearance and features. If you are looking for a gas grill but also want to have something unique in design, Fuego F24C is your ideal option. The design of this grill looks like an alien spacecraft which is small in size and completely different than any kitchen appliance.
The gas grill offers the cooking area of 525 square inches. Space is enough to cook 20 large burgers. You can do grill your food, use as a smoker or for broil, bake and many more. Also, the grill offers the combined 26500 BTU, its enough to cook the different meals in different ways.
The grill has a different appearance, but still, the cleaning is simple. The 45-degree hinged lid helps in cleaning too. The size of the grill makes it convenient to take it anywhere. If you are done with the grill, simply store it anywhere you like.


Features
It has a dual burner system
Total BTU/hr is 26,500
The hinged lid is 45 degree
The grilling combined space is 525 sq In
It has a 24 X 24 footprint
The casters are non-marking industrial
The door clasp close perfectly
Pros
The dripping cup is large
Easy and simple to assemble
Preheat easily and efficiently
Visual look is different and unique
The domed lid is 45 degree for consistent heat as well as safety
Cons
Food with height might cause an issue
The dual temperature zone can be confusing
Natural gas conversions are not available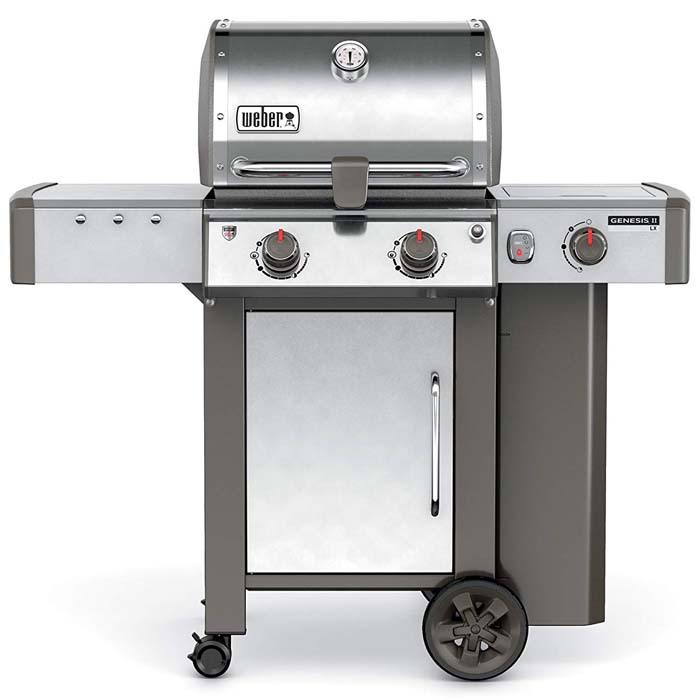 Weber is one of the most famous manufactures in grills. Well, with weber spirit, you get the ease and quality. Even though the size of this grill is small, but you can fit food with height extremely easily. Also, storage is not the issue, and once you are done the grill, you can simply store it. Also, the capacity of the grill can cook for small people and parties both.
The cooking space you get is 450 square inches along with the warming rack. In addition, the primary cooking zone offers 260 square space with combine output of 26500 BTU.
The grill offers two burners, and you get both in stainless steel. For adding better construction and sturdiness, the side tables are also stainless steel which is foldable.
Well, the grill works using propane, the use of stainless steels pays a vital contribution in grill's longevity. Weber also offers additional features like six tool hooks, built-in thermometer, and liquid propane tank. You can check how much gas is left for use at any time and refill on time.


Features
Fold-down side tables with stainless steels
Cooking grates are Porcelain-enamelled and cast iron
Comes with the electronic crossover ignition system
Thermometer is built-in
Grease tray on front access with catch pan
A steel door is painted
Pros
Size of the grill makes it easy to store
Simple in use and easy to handle
Finest materials are used
Shows the fuel status
The side tables are foldable
Cons
Only two burners are available
Plastic is used for wheels
Requires more attention and care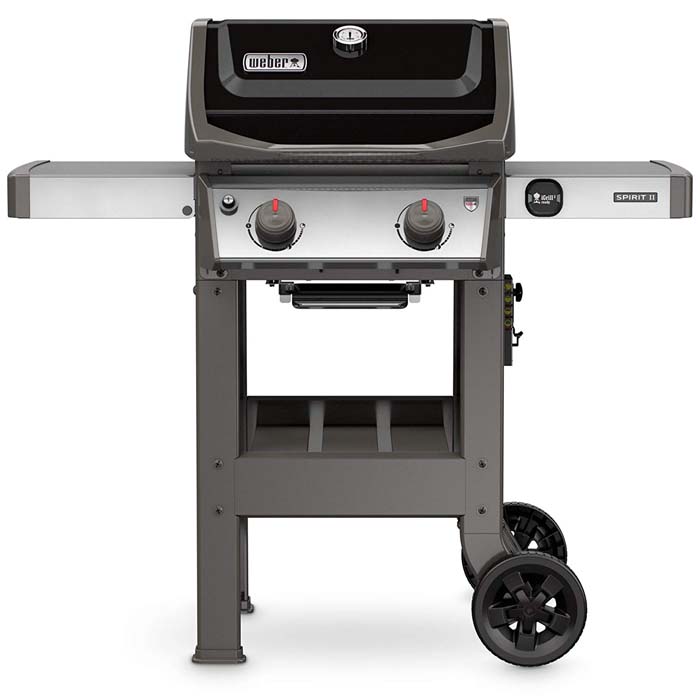 Listed as top gas grills in the market, Weber E-210 is the easiest grill to assemble. Also, the high quality of materials has been used with compact design and simple access. It comes with side tables which can be easily folded and you can store it anywhere you like.
There is a plastic hook given for holding the tools and utensils. The front door of the grill offers the propane tank access.
One of the unique features that you can find in this grill is its large drip tray. With this, you don't have to waste time on drips. Also, the tray comes with aluminium tray liner, which is replaceable.
You can use this grill for backyard grilling. The compact design of the grill can be easily adjust in limited space, balconies, patios etc. The grill belongs to one of the most famous companies in grills which offers simplicity and smooth experience every time.
The side trays can be folded down. You get the storage and complete safety from corrosion, peeling etc.


Features
It comes with fuel gauge
You get six tool hooks and center mounted thermometer
Two front locking casters with sturdy and back swivel casters
Advanced electronic crossover ignition system
The cooking area is 450 square inches, including warming rack
Porcelain enamelled cooking grates and flavorizer bars
Pros
Incredibly simple in assembling
It's well packed
The grill is affordable
The sides are easy to fold and store
Accurate and helpful black grill cooking
Cons
The cooking area or space is not big enough
The side shelves quality maybe not that great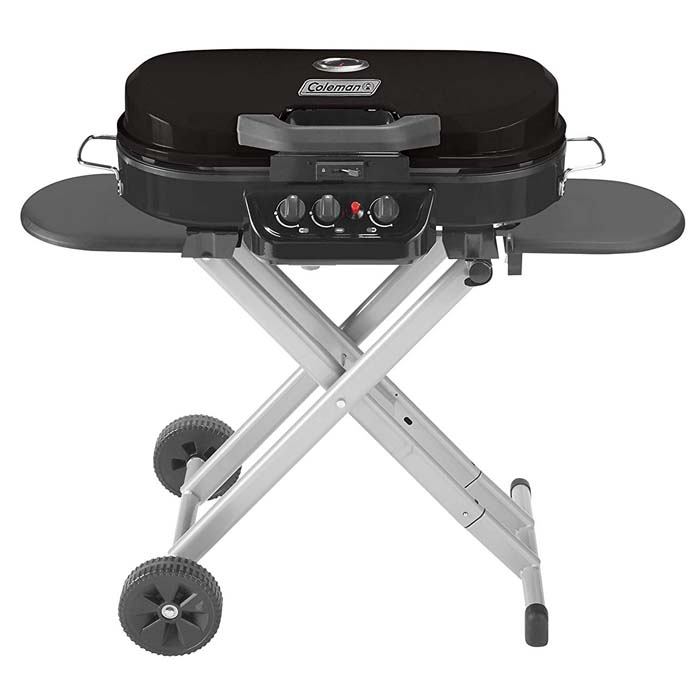 Coleman road trip LXE grill is one of the most rated options. Its highly suitable for road trips, camps etc. The grill is designed to fulfill all the requirements and expectation you have from gas grills' trips. Here you get the space of 285 sq. in for cooking different meals.
It has a removable tray which collects the grease for making the cleaning easy. The stainless burners are adjustable and sturdy where you get 20,000 BTUs. The grill is perfect for camping even if you are doing on high mountains.
The grill is highly portable. You can fold it, and the compact design makes it easy for travelling. To hold the food, you also get side trays and holder for tools. The setting up of this grill is time-saving and secure.
Lighting the grill is easy too; it comes with electronic ignitions along with a push-button. You can easily control the temperature as per your requirement.


Features
The grill offers two burners with heat control
Four steps for fast setups
Faster, easier and hassle-free cooking
The grilling power is more than 20,000 BTUs
The area for grilling is 285 square in
Push-button ignition
Pros
Easiest setup
It's gas power efficient
It can be used throughout the year
Ideal for travel
It can cool down faster
Enough space for cooking
Versatile and hassle-free
Cons
You are going to need enough propane
The wheels are not locked
The grilling capacity is limited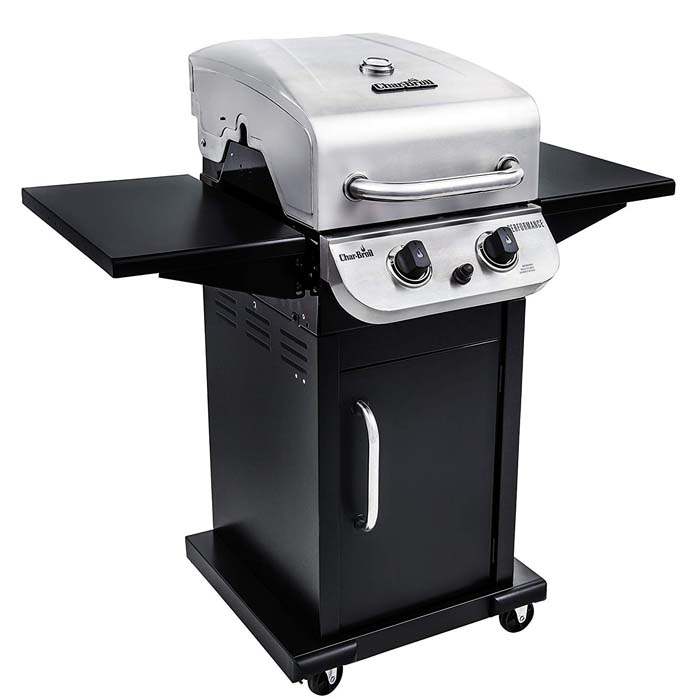 With the heating capability, char broil known as one of the best options in small gas grills. The exterior is suitable for the barbecuing with the traditional touch and colour. There are two wheels added in the grill's bottom so you can quickly push and pull with ease.
Also, the grill is highly affordable for any budget. So if you don't want to invest or have a budget, you can consider this one too. The grill can cook for a small army without any trouble. You get the side shelves to put the food and other things while cooking.
To hold the tools for grilling, you get the hooks. Along with that, there is a built-in handle for simple access.


Features
It offers two burners, 24 000 BTU
The lid is stainless steel
Temperature gauge mounted
Setting up is fast and easy
Storage cabinet for propane tank
Four casters with stability and lock mobility
Pros
The size is compact
Cleaning is easy with porcelain irons
Easy to assemble, no need to hire experts
Affordable and suitable for any budget
Cons
Chances of uneven cooking
Durability is not that enough
The grills are not long-lasting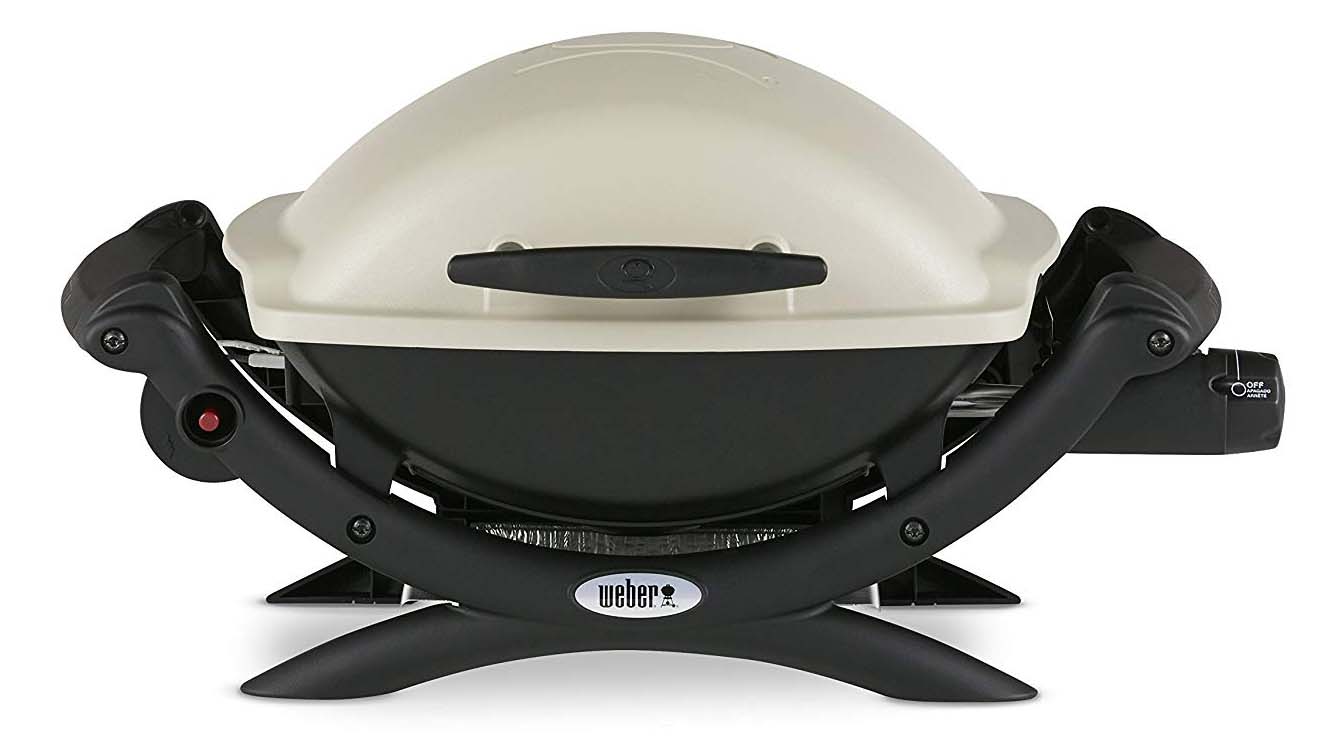 Its ideal choice for backyards and smart choice. But if you are planning to take it for outdoor, it's great for that too. The grill offers all the need features that you look while buying. You get the cooking space of 189 square inches.
Along with that, there are features including cast iron grates, push-button, spilt grate if you are looking for griddle cooking and removable catch pan.
Weber 50060001 Q1000 grill is a much better option for those who travel and do outdoor activities a lot. The design makes the grill compact and easy to store. You can take it anywhere with you. Also, the wight is not heavy, which works great. However, you might need to carry the propane tank along with you.
The grill can cook much faster as you get the 8500 BTU cast iron burner. This is enough for cooking veggies and meat without taking the time. The aluminium cast on its lid makes the opening and closing smooth.
Weber grills are famous for its quality and performance. With this model, you get the same thing along with the super easy maintenance.


Features
Grease tray and push-button ignition
Space for cooking area is 189 square
The design is modern and stylish
The construction is heavy-duty aluminium
The cast iron burner is 8500 BTU
Pros
Knobs and handles are larger
Easy to clean
Easy and fast cooking
Drip tray for grease
Simple assembly
Large space for cooking
Cons
It has only one burner
You have to get the propane separately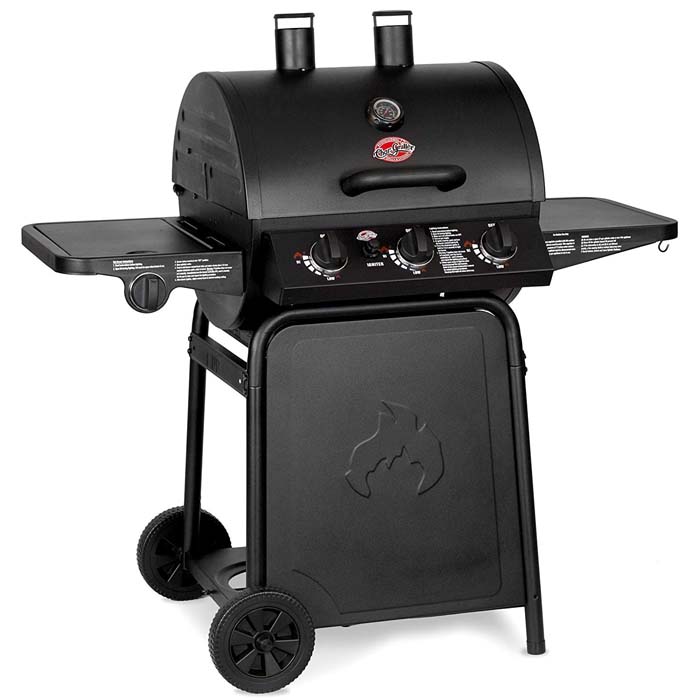 The char griller is a durable, sturdy and unique design. Well, due to its design, you also get longevity and steadiness. With the extra side burners, you can also enjoy the space for putting the food. The grill is perfect for preparing delicious steaks.
The wheels make the movement smooth. You can easily move your grill anywhere you like.
Char griller company is a well-known name which offers low priced grills and charcoal smokers. They are offering char griller E3001 along with the small design and compact look. However, the weight might be a little heavy, but the functions are quite effective. This option is one of the conventional hybrids in grills. You can get the excellent heat in this grill.
The set-up is much hassled free. Also, the grill is one of the options you can choose for outdoors. The construction of the grill is heavy steel which has the powder-coated. So you get the solid as well as durable construction with stability.


Features
The grilling area is 438 square inches
You get 40,800 BTU grill
The overall measurement is 48 x 28 x 48 inch
Hooks for holding utensils and tools
Steel construction is durable
Side shelf for workplace
Pros
The full feature grill is affordable
Heavy construction
Cooking space is large
Easy in cleaning
Side burners are extra
Cons
The wheels are made of plastic
Internal components are lower in quality
Complex assembly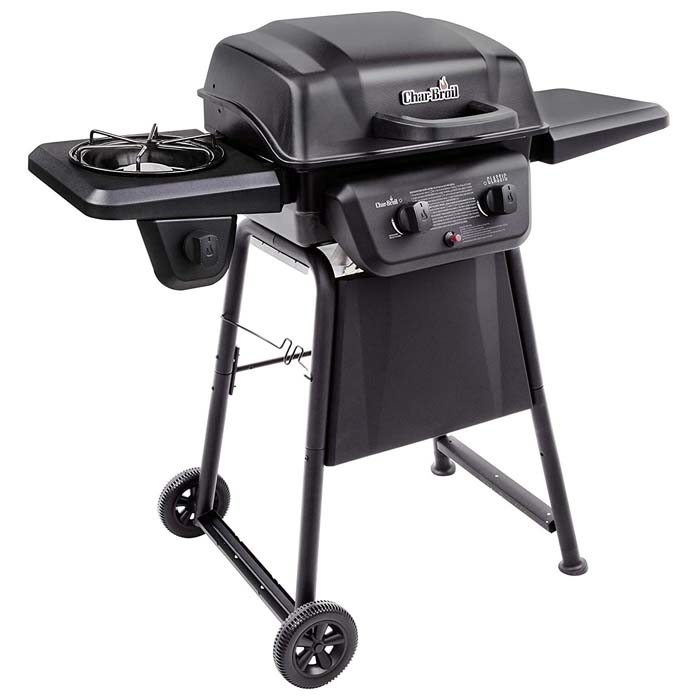 Those who are looking for outdoor gas grills, they can consider char broil classic 280 too. Space here you get for cooking is 280 square inch. Also, you get the wire grates with porcelain coated. However, the area is not ideal for huge numbers in people. But, if you have a selective set of people, this will work great.
Also, to store the tools and ingredients, there are two sides shelves given. With that, you get the wheels and stands. To protect the grill as well as you, the firebox is provided so the flare-up can be avoided. The grill cover is added to keep the dust and rust away.
The connective cooking system and searing power of 26500 BTU offer smooth cooking experience. Also, you get the detachable drip tray in addition. Due to this, you can easily clean the grill. It helps in making the food slightly more healthier as you can remove the extra fat from it.


Features
Piezo ignition system for reliable and fast setups
Cooking space available is 280 square inch
Plastic side shelves for extra space and tools storage
Two burners, grates with porcelain-coated wire along with 25600 BTU
Pros
The price is affordable and wallet-friendly
Simple in cleaning and easy in handling
You get igniter system built-in
The construction is durable as well as components
Cons
There is no warming rack
The tank holder might be wobbly
For some people, grilling area might be not enough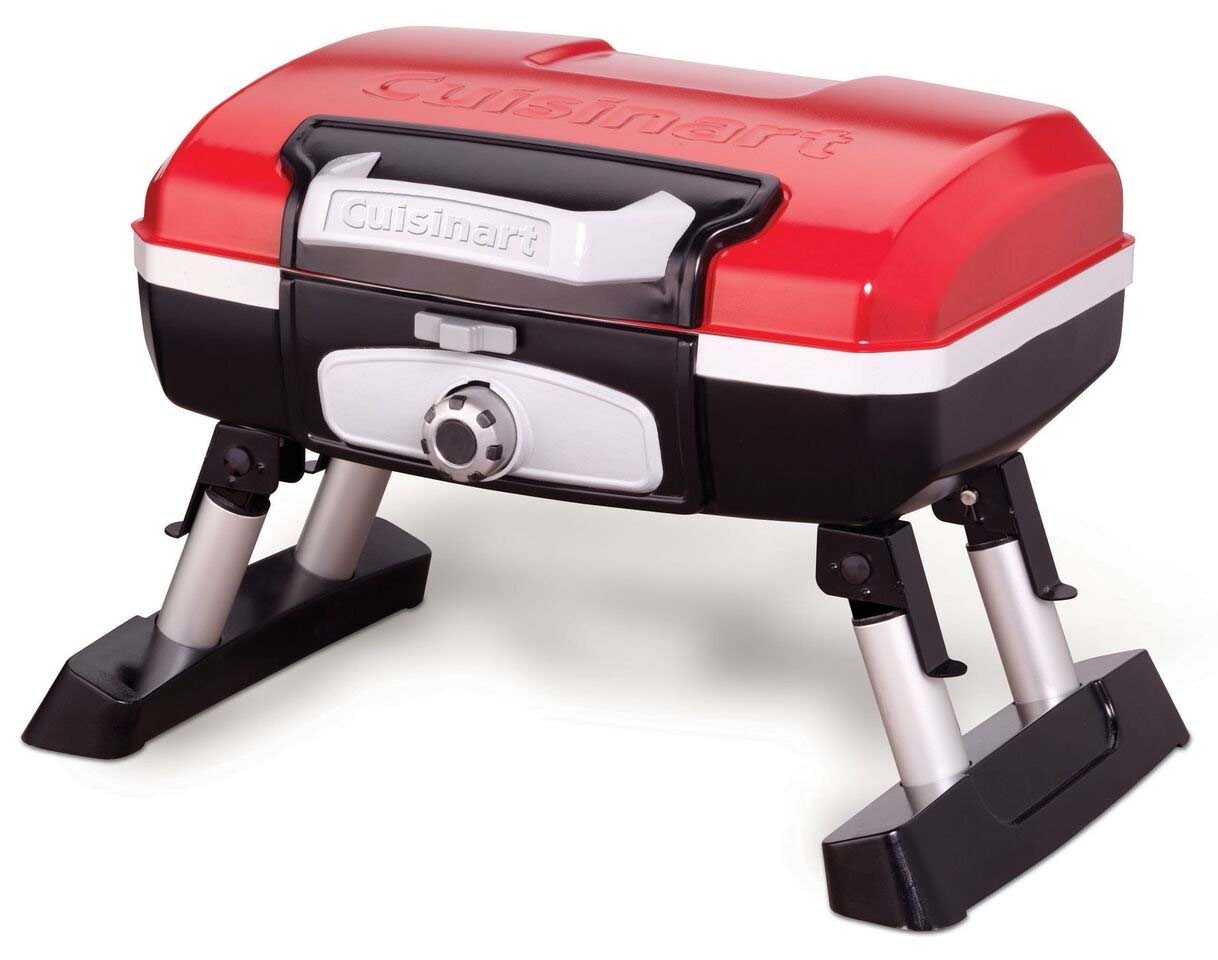 If you are looking for the best portable small gas grill, then you can consider Cuisinart petit gourmet too. The assembling of this grill is way more than easy and fast. You just need seconds, and this grill is ready to get going. Also, for a single person, the legs of the grill expend to give enough space for secure handling.
The lightweight materials keep the grill light in weight. Also, even there is an extra weight of heavy cast-iron grates. Still, the weight is around 20Ibs that also includes the stand.
Because of the weight and the portability, the storing as well as transporting are simple. Also if you are planning to carry the grill along with you, just simply store it in your car.
Assembling the grill is easy to follow as you need no tools. It takes around five minutes if you follow the instructions correctly.


Features
Comes in briefcase style with 13.5 pounds in weighs
Lid lock integrated for secure lids
Aluminium legs and stabilization in cooking
The grate is porcelain enamelled
Offers 5500 BTU with a burner which is stainless steel
Pros
The grill is fuel-efficient
The built-in thermometer
Easy for indirect cooking
The built of the grill is good
It's light in weight
Easy in cleaning up
Fast cool off after the grilling is done
Cons
The grease is easy to build and can spill
Not suitable for large numbers
What to consider while purchasing small gas grills
The carving for perfectly grilled food directly from the grill is hard to ignore. However, to enjoy the best experience, you must be aware of the points that you need to consider before you purchase small gas grills. Here are a few questions that might help you in this section:
What to choose charcoal or gas?
To get the ideal grill for yourself, you need to aware of what kind of experience you want. It can help in understanding what type of grill can fulfil your requirements — the charcoal grill fans like the flavours that the grill delivers. However, you can save a lot of time in gas grills.
Also, you require the propane tank every week for the gas grill, which is convenient as compared to buying charcoal bags every day. For those who prefer the taste and quality, charcoal grills are definitely the best option even if it takes time.
Where can you store it?
It's important to understand where you can store the grill and how much space you can offer. There are different sizes available, depending on what you prefer or find comfortable. Also, by this, you can add more years to the lifespan of the grill.
Apart from that, consider the season of your areas so you can cover and protect it during those days. Some of the grills come with a slip-on cover. If not, you can also get one separately online.
If the place you like is a snowy or rainy area, then you must go for sturdy wheels and handles. By this, you can get easy access and move. Also, you can find the best small gas grills under budget as sizes can differ the price too.
How often are you planning to use the grill?
This is an essential question in deciding how much you suppose to spend in buying your grill. There are numbers of options out there which have their own positive and negative points. But if you know for how long and for what you are planning to buy the grill, this will narrow down the options for you.
If you are planning to grill on occasions or for specific times, then there is no need to buy expensive. Get the list of things you are expecting from your grill, including the food you are planning to cook. Start your search based on that list so you get the grill which can cover most of your points.
Should you pay more to get more options?
There are extra options for those who are experienced grillers. The additional purchase offers flexibility and better technology. However, for those who just started in this field need not buy extra options.
Also, those who are not experienced with the grills might find the additional options hassle filled and hard to handle. So, go for the grills which offer easy experience with decent features and extra options. You can switch to next when you get the experience in handling your grill.
How much surface do you need for cooking?
If you are looking for a grill which can only be used for hamburgers and hot dogs, then you need space. Make sure the grill you use offers the cooking space, which allows you to cook many things. However, if you are looking for a small family or gathering, then you don't have to spend extra money for space. Small gas grills or charcoal grills will do the work too.
Which type in the grill do you prefer?
The variations in shape and size are available when it comes to buying the best grills. Also, you will find the different construction material, models and additional features. If you are choosing the charcoal grill for purchase, there are options in barrel grill, kamado grill, kettle grill etc.
Before you choose, make sure that you know what kind of grill can meet most of your expectations. The types in grills are for providing enough options to the buyers so they can enjoy the best results at the end.
Conclusion
When you are looking for the best small gas grills, look for the features they are offering too. But to choose the small grill requires what you need and expect from it. The grill must provide enough cooking space so you can cook whatever you like. Also if you prefer to use it outside or for travel then do look for the size and weight while buying.