Whether you are looking for making your own grilled cheese or something like chicken with bacon, Panini press can make it for you. Not just you can enjoy tasty and professional-looking results but also its simplest, most comfortable and fastest option too.
There are different terms used such as panini presses, panini grills and many more. Also, you can get different types, sizes and shapes which delivers the best results.
Choosing the best panini press might be little hassle filled. However, we listed the best ones for you here along with what you can or should consider while buying.
Best Panini Press & Sandwich Makers Reviewed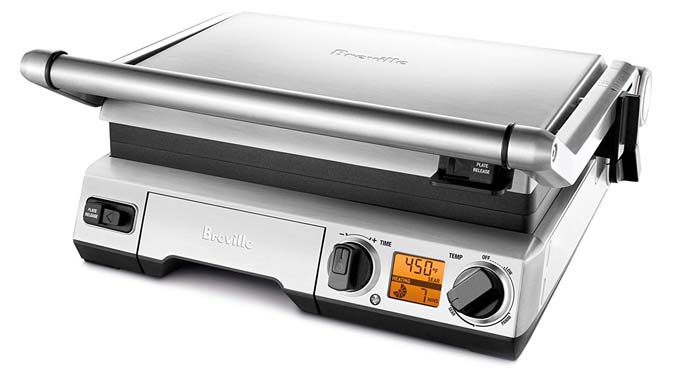 One of the most recommended names in best panini press & sandwich maker, Breville indoor grill offers a combination of unique BBQ taste and features. The cooking with this panini is much faster due to the IQ technology.
It also comes with the heating design embedded. However, you are first going to need preheat, and then the cooking process can start between 10 minutes.
Also, it offers six heights which have adjustable settings. The height can be set according to the food's thickness. With the setting of height and temperature, you can cook the food you need. Here you get one ribbed and one flat plate.
The cooking space is 260 square inches and its enough to cook steaks in big sizes at the same time. The panini is the best option if you are preparing for 4 or 5 people. Also, you cook sandwiches, pork chops, lambs, vegetable, frozen foods, etc.
Cleaning is simple as the plates are easy to remove. Once the plates are cool off, you can use the dishwasher. You can simply use a wet towel and soap for cleaning too. Also, the grease stored in the drip tray can be simply washed off.


Features
The BBQ mode open flat
Offers different six height with adjustable setting
Control over temperature with sear mode, panini and low.
Drip tray is integrating and removable
Plates are dishwasher safer and removable
Pros
Simple and fast cooking
IQ technology which is unique
The heating design includes 1800 watt embedded
Cons
Offers one grill and griddle plate only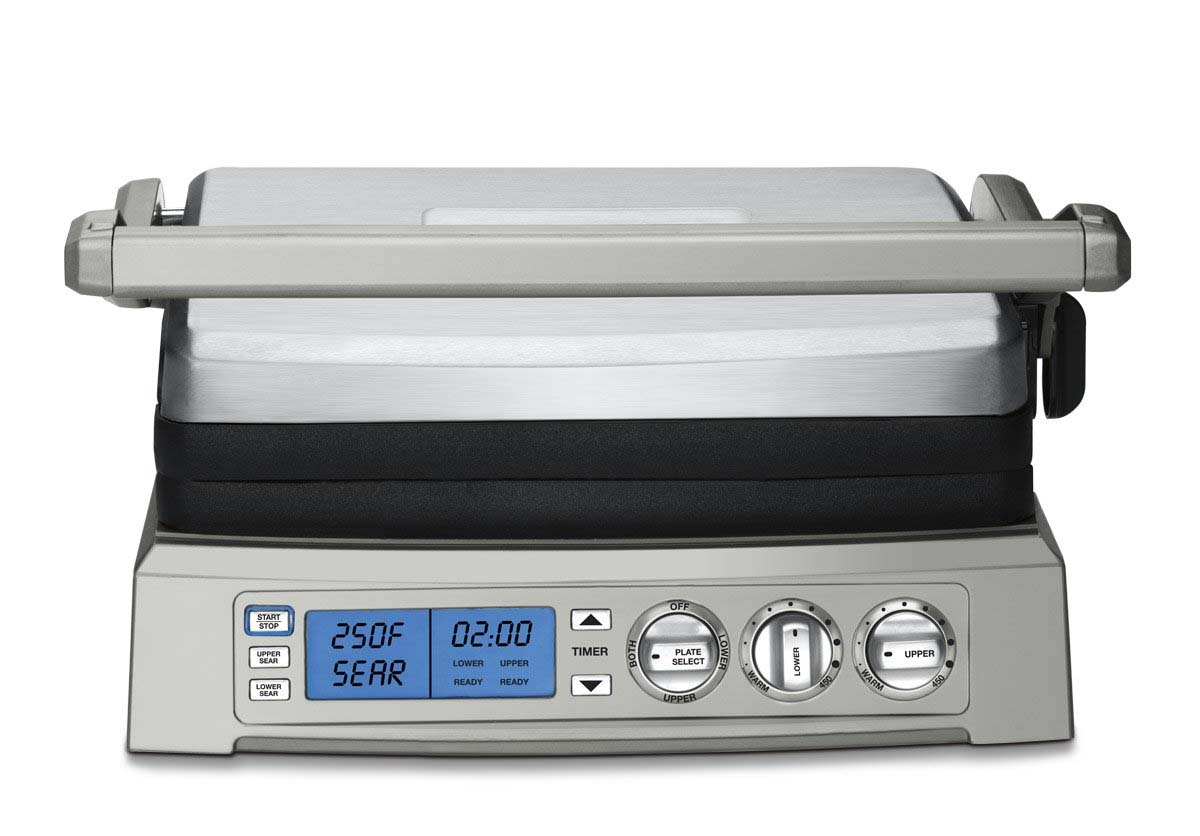 The Cuisinart GR-300WS Griddler Elite Grill offers the sturdy design with vast options in features.
It's one of the best panini grills which allows you to experience with different cooking style and cuisines. The option is ideal for exploring different options and skills at home. You get six cooking options, unique flavours and easy control.
Here you get, griddle, grill, half griddle, panini press, half grill, top melt sandwiches etc.
The space you get is 132 square inches with the plate of 11 x 12 inch. Also, you get the sear function which can be ready within two minutes. Not just that with this model, you get the dual temperature control zone which makes it easy in cooking.
There is an LCD display with indicator light. Also, you get the countdown timer of 60 minutes. You can clean it easily too. The plates are dishwasher, safe and non-stick. It's also easy to remove, which allows you to do better cleaning.


Features
The top plates are adjustable
Contact grill and panini press
Full grill and griddle
Offer sear function at 500-degree Fahrenheit
Temperature control is a duel zone with complete control
Pros
The place is large enough to cook
It can sear excellent
Steady and smooth control over temperature
Simple in cleaning
The rating is high
Cons
Small grease drip function
The top plate might not stay locked
Waffle plates are not available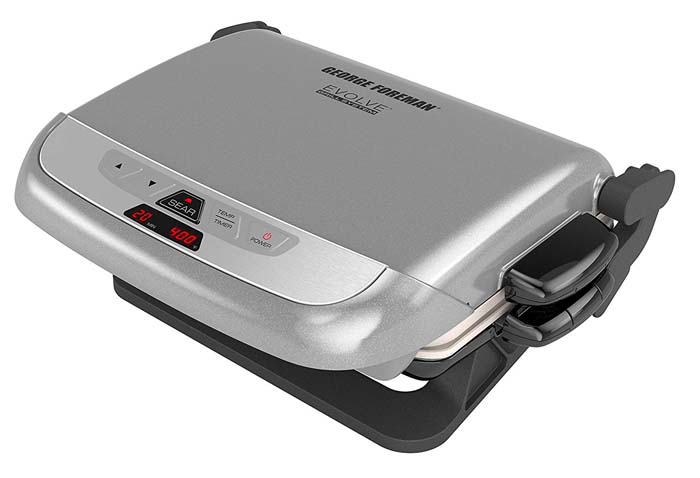 One of the options for best panini presses in the market, George foreman GRP4842 multi plate evolve grill offers the wide and beautiful range in cooking. With this, you can cook vegetables, steaks, chicken and burgers with complete ease.
Also, it offers the 500-searing burst, which gives the highest temperature. Also, the temperature gets ready within 90 seconds due to which you save lots of time for perfect grill.
For the protection, you get the digital control panel. So, you don't have to be anywhere around the handles. You can simply check the cooking time, grill temperature etc. The control buttons are also placed to offer easy cleaning on the grill exterior.
Also, it comes with a cool-touch feature to keep the handling simpler. The grill plates are easy to remove so you can clean your George foreman multi-plate without any hassle. For keeping it simple, the grill is multilayer-coated with non-stick ceramic coating. It also helps in keeping the use of oil in control while you grill.
The plates are PTFE and PFOA free. Not just you can cook a wide range of food, but also it will be safe for you and the environment too.


Features
Ceramic plates that are removable
You get digital control panel
The plates are PTFE and PFOA free
It features a cool touch
The grill plates are coated with advanced ceramic
Floating hinge for easy cooking
It features a 500-degree searing burst
Pros
It's versatile
You get different cooking option with 3 in 1 grill
It comes with a deep baking tray and muffin tray
Cons
Cleaning of removable plates might be not easy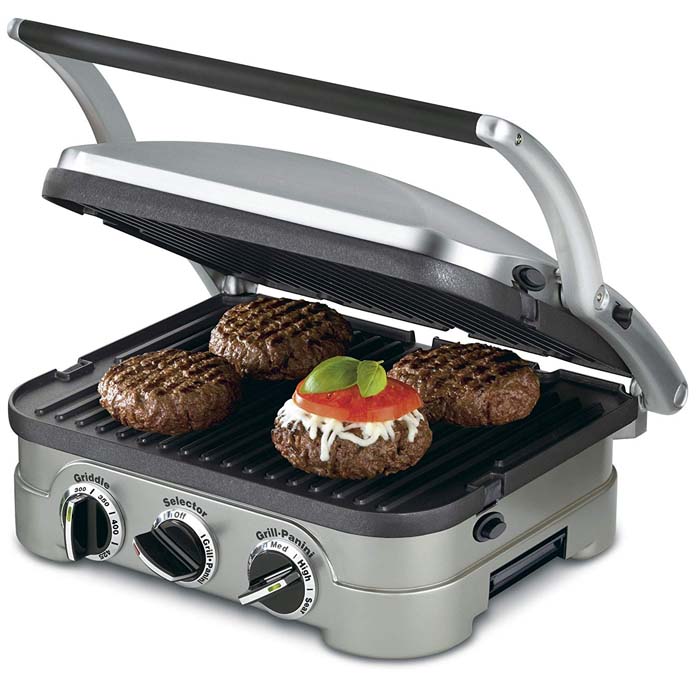 To enjoy the versatile cooking experience, Cuisinart GR-4N 5-in-1 offers the contact grill along with full-half griddle and fill-half grill. You also get the panini press so you can cook various items with easy and simple steps. Not just that, here you get complete assurance of high-quality end results every time.
The panini grill comes with temperature control which also can adjust and offers indicator light. With this, you can get the exact idea when your food is ready and properly cooked. It eliminates the chances of overcooked and undercooked results.
Also, for healthy cooking, here you get the non-stick cooking plates. It drains the extra grease. Also, it can easily remove and reversible.
The GR-4 N is built for the long run. It includes a stainless steel frame and a handle which gives a sturdy look. For the thickness to your meal, the floating cover is designed too.
Not just you get the better taste, but you can avoid the waste and extra effort in cleaning. Here you get the integrated drip tray which helps in preventing the mess while cooking. Also, the cooking plates are completely dishwasher safer and non-stick.


Features
The plates are dishwasher safe
Its 5 in 1 design offers versatile cooking
It provides Integrated drip tray and function selector
Grill plates are removable for easy clean
Pros
There are more than five options in cooking
Easy in use
Ideal panini maker
Strong and solid construction
Its PTFE free
Cons
You might require cooking oil or butter as the food gets stuck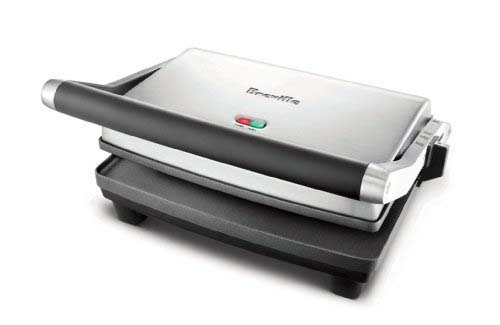 Breville BSG520XL Panini Duo 1500-Watt Non-stick Panini Press is ideal option if your focus is on design and built. The press offers sturdy and handles, which is easy to adjust.
The materials are used to make this press is premium quality. SO, you don't have to worry about buying a new one anytime soon. This one is for the long run along with its durability. Also, you get the stainless steel and rubberized grip.
The press also offers fast and hassle-free cooking. You also get the grill marks with its ribbed top plate.
There is a floating hinge for making sandwiches in all different types and sizes. Also, you get the three different settings to arrange and adjust in a floating hinge.
Apart from that, you get ready to cook indicators. For keeping it protected, the press also comes with non-slip feet. You can understand more about it with the manual that comes with the press. It will help you in understanding the functions and features better. It includes recipes too so you can try it as well.


Features
It's durable inbuilt
The handles are sturdy
Quantanium surface is scratch-free and non-stick
Heavy-duty cooking with 1500 W heating element
Pros
Fast cooking
You get grill marks
The top plates can move
Cons
It might be difficult in cleaning
It causes grease a lot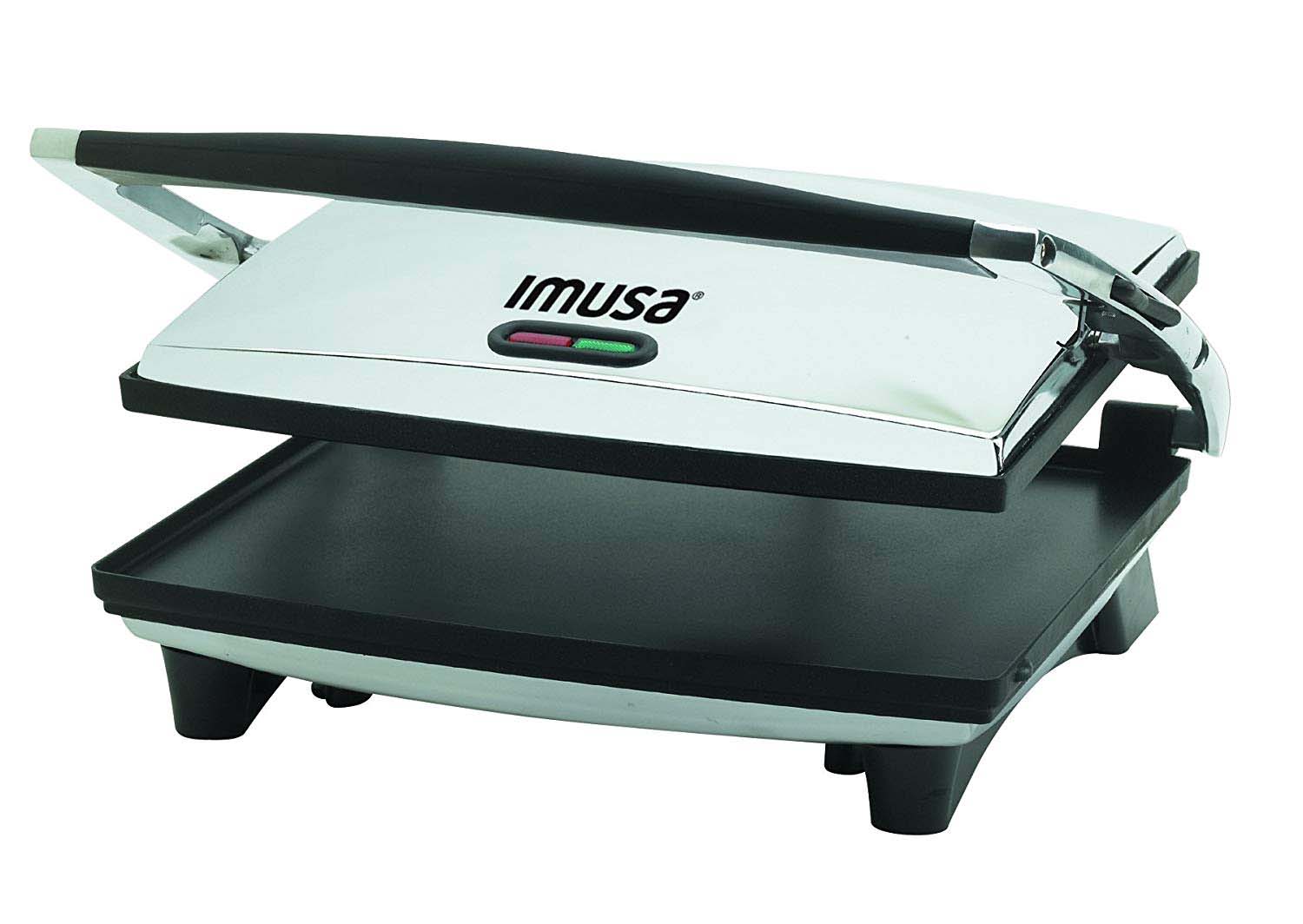 For those who either going to use it for the first time or lack experience, they can choose one for a starter. IMUSA USA GAU-80102 Large Electric Panini Press is a heavy-duty that comes with 1400w.
It can easily heat up without any hassle. Also, you get the non-stick plates along with the surface of stainless steel in this well-built unit.
As compared to any other options, MUSA USA GAU-80102 Large Electric Panini Press is much easier to understand. You don't get too many options in control and temperature adjustments. Also, the press comes with a head indicator light not just that you get hinge which can be adjusted too.
Cleaning this unit is easy as well. Due to the non-stick surface, you can simply make the sandwiches that you like. Also, if you are not into spending money for your first try, then you can go with MUSA USA GAU-80102 Large Electric Panini Press.
With this one, you can get the restaurant like end results with simple and hassle-free features.


Features
It offers solid build
It's heavy-duty with 1400 W
The floating hinge is adjustable
Deep ridges and grill plates
Pros
Easy in use
Ideal for beginners
Cons
Requires converter plugs
Floating hinges are breakable
It can burn food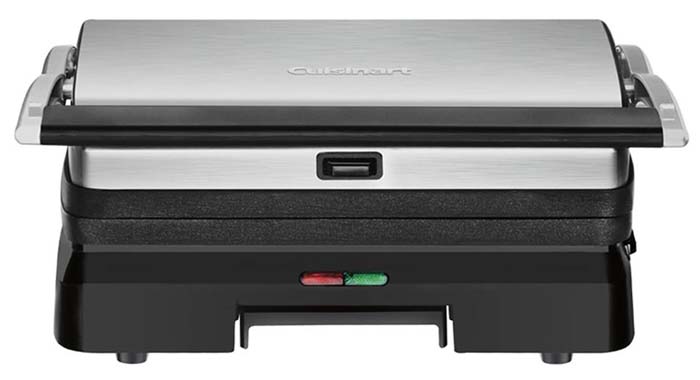 To get the smooth operation with a simple cleaning, Cuisinart GR 11 griddle panini is ideal to choose. Also, it suits the budget if you are looking for affordable and reasonable rates.
The 3 in 1 press do the work and gives the result you expect at the end. Also, the heating up is much faster along with that you get the grill marks too.
However, the size might be not ideal, but it comes with fold its open option. You can use it for getting the double surface for cooking. Also, it's used for kebabs and grill other type of foods.
The front legs are adjustable, so you don't have to worry when you cook. The press also offers the grease drip tray that elements the chance of extra food.
Apart from that, you can sear the steak with the temperature as it can reach more than 325 degrees. However, its recommended if you are looking for panini press for an indoor experience.
It's perfect for small get together. However, the size might be the issue for larger household.


Features
It offers the 1200 W
You get temperature control
It comes with adjustable legs
You get dishwasher safe plates
It offers removable plates and grease drain
Pros
It's easy in cleaning
The heating up is fast
The price is affordable and reasonable
You can remove the plates
Cons
Plates are not reversible
No waffle plates and locking plates
The size might be small might be small
The plates might not always stay on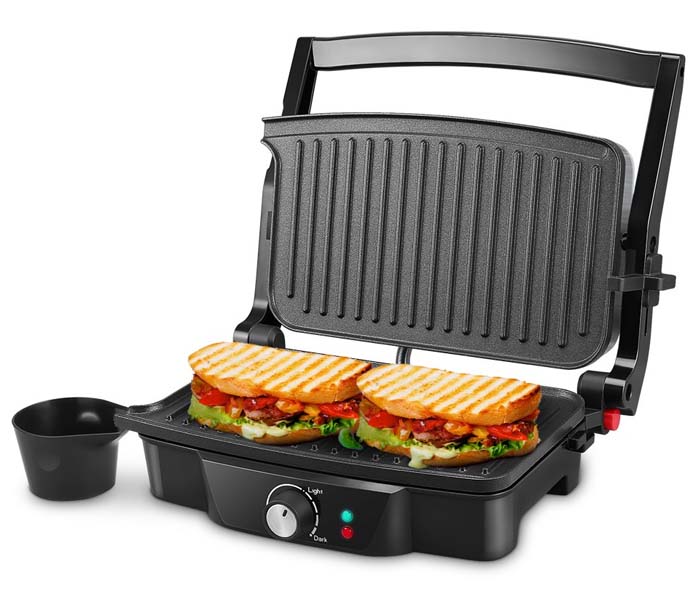 iSiLER 4 slice panini press grill offers 3 in 1 multipurpose use. Also, you get the fast as well as even heating for an easy cooking experience. It provides 1200 W high power output that comes with uniform heating technology. With this, you can cook much faster and time-saving.
You get the dual plate of 27.8 x17 cm which offers a much better and efficient way for grilled food. You can easily grill steaks, vegetables, burgers, paninis, sandwiches etc. It's also good for indoor grilling experience if you are looking for one.
The press is coated with non-stick, which makes cleaning easier. Also, it ensures the reliability and offers the crispy and golden-brown end results. You can keep the oil intake in control with the special outlet in this press. It helps in keeping the extra grease and oil away.
The temperature control prevents the overeating as you can adjust according to your like. Also, it protects the food from getting burned or overcooked. With this, you can make whatever you like without worrying about heat and temperature. It also keeps safety in check.
You can simply use the press due to the given switch. The right handle switch is for opening the upper housing. You can simply close it with the help of a floating hinge. It keeps the use of much hassle-free and convenient.


Features
It offers the 1200 W high power output
The non-stick cooking plates are dual 10.9 x 6.7
It Comes with special outlets for draining grease and oil
Multipurpose use of 3 in 1
The indicator light for power and reheating
Pros
Easy to clean up and store
The heating is fast and even
It offers 3 in 1 versatility
Cons
Temperature control might take time in understanding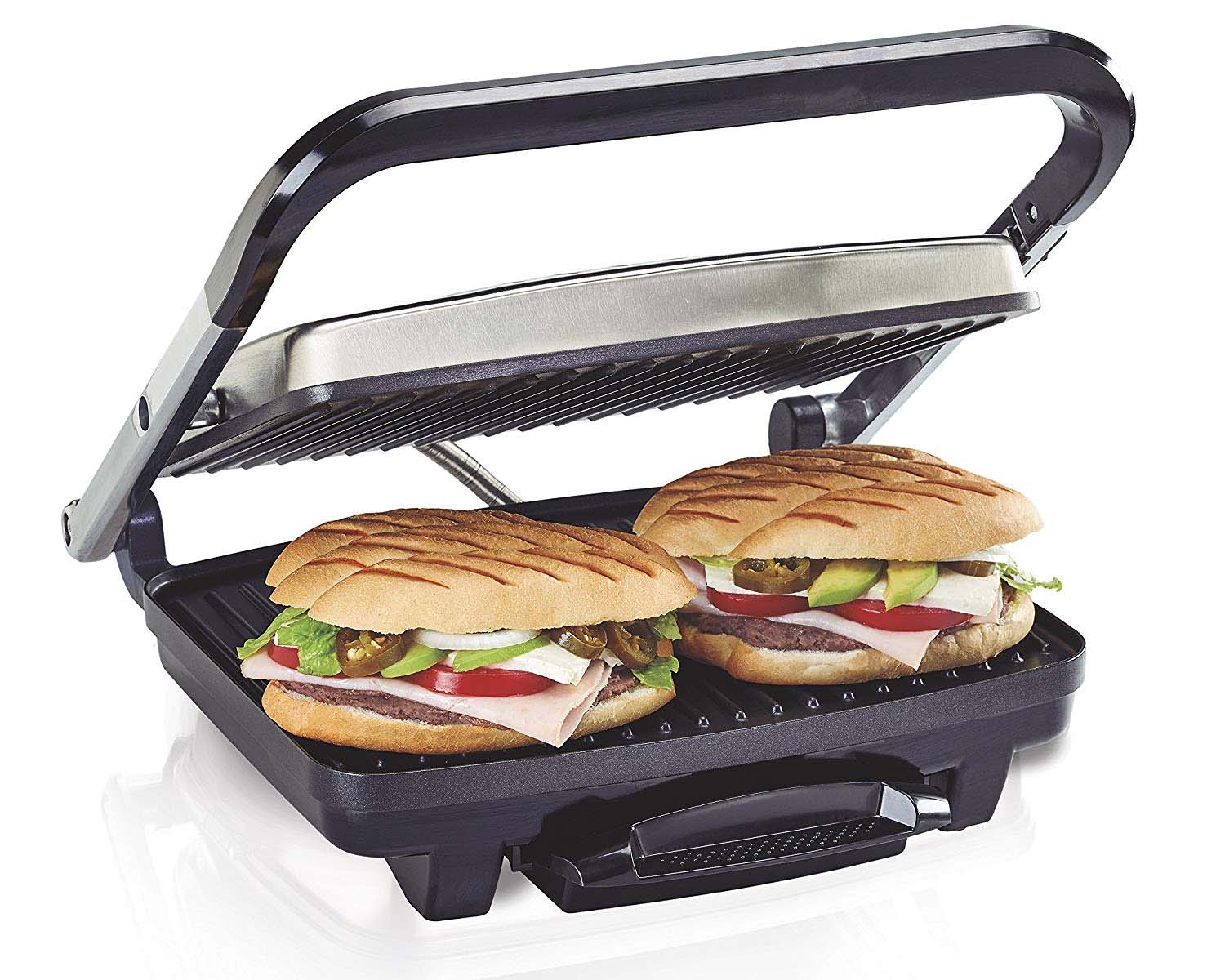 If you are looking for mid-range but reliable option, Hamilton Beach panini press is the ideal option to try. Here you can grill whatever you like; it can easily cook sandwiches, vegetables, steaks, burger etc.
The press comes with café style floating hinged lid, which makes the cooking much better.
With that, you can press all sizes and thickness in sandwiches. Here you get 95 square inch cooking surface with non-stick, and it can be ready within 10 minutes or lesser than that. Also, its compact and upright storage makes it easier to use.
The press comes with lid locks which keep the working much hassle-free and secure too. You get the light indicator for power and preheat. With this, you can also easily understand when to add the food on the surface. It's also easy to clean and to maintain due to its non- stick coatings.


Features
It comes with preheat power light
Space and storage are compact and upright
Easy in cleaning
It offers the café style floating hinged lid
Lid locks for safety
Non-stick cooking surface is 95sq
You get spatula or scraper included
Pros
It allows variation in the heat for different sandwiches types
Upright space for storage
The press gets heat up easily and faster
Ideal for keta and paleo diets
Cons
The pans are not removable
Things to consider 
Buying your ideal panini press might take time as there are lots of options out there. Choosing the best panini can help you in making the fastest and easiest sandwiches as well as many other dishes on your own.
However, buying the press for the first time might be overwhelming. Also, so many options, features and ideas can be confusing.
There is a huge market which offers you different range in panini press. But to choose the best one, there are a few basic factors that play an important role. It can help you in narrowing down the choices and options you have. Also, it's better for getting the determined results as well.
The basic factors: To understand if the product is good for you or not, here are the basic three factors you must look. Also, not you just get the clear picture, but with these three you can understand more about what you are buying.
Budget & Price
Indeed, it's one of the most overlooked points, but it's important to take this in your account as well. The market got something for everyone. It doesn't matter if you are looking one for yourself or for whole family.
You will find the panini press that serves you the best. However, before you start looking, you must be clear about whom and for what you are buying.
Reviews
Reviews are the best option to get the insight of any product you choose. There are so many ways that can help you in understanding more. It's not simple to get everything just by checking the description or the pictures.
Reviews can help you in understanding the functions, features, the good and the worst about the products. Reviews also help you in understanding if it's for you or not. With this, you can also understand what to expect from the model you choose.
Brand
There are many famous brands which you know already or heard while looking for one. However, instead of going with the famous names, try the best ones in performance. Not all brands are expensive, but you must try the range you get, which perfectly suits your requirements.
Also, you don't want to get stuck with something that you don't want. So don't get confused with brand names.
The features to look: Hands down, but there are just so many features introduced in panini press. It makes your work much cooler and easy and offers a huge variation in cooking. But there is some best features you must lookout.
Temperature control
The press which offers you the temperature control is a better option, especially if you are looking for all in on the grill. With this, you can adjust the temperature as per your requirement. The ready temperature whereas restricts the temperature, which is only good if you are using it for sandwiches only.
Grill Plates
The removable grills are helpful in cleaning. You can simply soak them or wash them in the dishwasher if its dishwasher safe. If you choose the normal ones, then you have to focus little more on cleaning. The gaps and sides must be clean properly so there should be no food crumbs or grease left.
Heating zones
You can choose the flat one, but it will give you even surface for cooking. But the ridged grill plates are a much better option to get the grilled touch to your food or sandwiches. Also, with this, you can cook for a bit more time, but that depends on you.
Drip tray
In order to reduce the use of oil and extra grease from your food, the drip tray is an ideal feature to get. Well, there is more option such as supplied drip cup, but that's not simple to use. Drip tray is an important one if you don't want extra fat in your food intake.
Hinge height
With this, you can cook different types in sandwiches as well as foods. The more height you get in the hinge, the better variations and options you get in cooking. For better cooking experience, you can get a higher hinge with the press. Also, it considers a key feature if you are aiming for good press.
FAQs
Conclusion
Choosing the best panini press lets, you have a smooth experience. Not just that, you can also do experiments and try different foods that you want to eat. Also, it gives you the endless option to go as far as you want.
The listed names here serve the purpose and makes your experience much better. However, it depends on what you look and for whom. Make sure that you understand the primary factors and features so you can choose the best one for you.